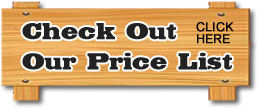 The prices at EWE-PULLET are just plain simple.  Check out our exclusive "SIMPLE PART PRICING" to see what we are talking about. Level pricing on all part types regardless of year make or model.  EWE-PULLET is the only place in the area where every starter is the same amazing low price! Every Part type will have its own price, regardless of year, make, or model. This is what we call "Simple Part Pricing"
See the attached price list for the current prices for each part type. If you can harvest it at EWE- PULLET, that is the price.  Now that is simple part pricing.
Here are a few notes you need to know about pricing.
All prices are final regardless of the condition of the part you choose.
Prices are set according to a wide variety of conditions, some items will be amazing bargains, and the rest will still be super inexpensive, now that's simple.
Click here to link to our current online "Simple Parts Pricing" list.
Our Simple Part Pricing is subject to change. The price in the store is the price you will pay if there is a difference.  There may be additional fees for tax, environmental compliance, and the use of credit cards.
Small fees will be applied to each ticket to help us maintain our CAR CERTIFIED environmental compliance efforts.
With the amazing values, our average sale amount will be very low.  Because of this low $ average receipt, Credit Card and debit card sales will have a 2 percent fee applied to the sale price to offset the processing fees associated with these cards.
Pick up your EWE PULLET PRICE LIST BOOK at the Pull Barn for a handy reference guide you can carry and also a chance to win prizes at our annual Harvest Days.
Get a FEED BAG! Ask in the office about a small zip lock you can fill up with screws, clips, etc. for an amazingly low price!
Harvest Rewards, our FREE Loyalty Program makes it even better!