Ewe Pullet has one of the best Shopping Rewards Program for the auto parts industry in the region!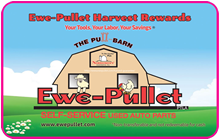 It is simple, Sign up today at no expense for your Harvest Rewards number.  Once we create an account for you, you can start to collect 3 Percent every time you buy parts from us. It is that simple! Our system will keep track of your rewards and you can use them for any purchase at EWE PULLET. Just another way for us live up to our slogan of Your Tools, Your Labor, Your Savings®.
Ask the gate attendant to get you signed up on your next visit to EWE PULLET!
PS-Sorry,  Harvest Rewards are not redeemable for Cash.
FILL OUT THE FORM AND START COLLECTING YOUR REWARDS ON YOUR NEXT VISIT!