When you come to EWE-PULLET, you will be using "Your Tools, Your Labor for Your Amazing Savings.  We want to keep it simple and fun, but there are few things you need to be aware of when to make your EWE-PULLET visit.
Entrance Requirements
Everyone is welcome at EWE-PULLET, but we do have a few rules before you can enter the facility.
YOU MUST BRING YOUR OWN TOOLS-Don't forget! We do sell some tools in the "Pull Barn".
You must be 16 Years old or older to enter EWE-PULLET. Children are not permitted and we 

do not

 have care facilities or a family waiting room. Learning drivers with a state issued permit are allowed with an adult or mentor.
Only ADA approved Service Dogs as defined in the ADA Requirements by the U.S DOJ (https://www.ada.gov/service_animals_2010.htm) are allowed, otherwise no pets or animals are allowed in the Ewe-Pullet facility. Please keep them in your vehicle if they must travel with you.
Proper foot attire is required. No open toed shoes and no bare feet.
Everyone must sign an assumption of risk and release of liability form prior to entering the facility.
To maintain ordinary expenses and to assure we have the best resources such as carts and engine lifts available for your use, a two dollar daily admittance fee will be charged before you can enter the facility and  is good for the entire day. The admittance fee is NOT REFUNDABLE. Our Harvest Guarantee will allow you for another trip if you do not find a part you were looking for.
We will waive the two dollar entry fee for any Military Personnel or Veterans. Present a valid military ID for us to see, and while you will still have to sign the entrance release, your entrance fee will be waived.
Any personal property such as tools and any tool carrying containers or bags will be subject to inspection upon entrance and exiting the EWE-PULLET lot.  Any parts brought in for comparison will be marked to assure there are no confusion with your part and the one which you purchase; if the part is not marked you will be charged for it upon exit.
Entrance into the lot to remove parts will be restricted a half hour prior to the posted closing time.
Vehicles are placed up on special stands so jacks are not required and Jacks WILL NOT be allowed in the EWE PULLET LOT.
Powered saws, grinders and gas torches are NOT allowed in Ewe Pullet.
VEHICLE PREPARATION AND FACILITY CAR CERTIFICATION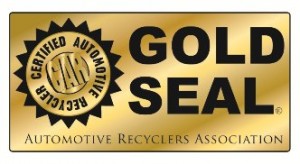 EWE-PULLET will be carrying on the same high environmental standards that have been paramount at Nordstrom's® Auto Recycling for years. Nordstrom's® was the first CAR certified auto recycler in the region.  The entire vehicle processing system for the EWE-PULLET vehicles is done in the same facility as our certified full-service operation.  By doing this you are assured that your vehicle will not become part of any future problems for you or for Nordstrom's. Our Green Vehicle Disposal gives you the comfort that all potential hazards are removed from the vehicles you will be selling us or removing parts from.  Please click on the link for CAR to see what is involved to receive that certification.
As part of that process, we remove many things from the vehicles including hazardous Mercury.  Nordstrom's® Auto Recycling is part of the NVMSRP (National Vehicle Mercury Switch Recycling Program) that was formed as a result of an agreement reached in August of 2006 by the associations and individuals representing dismantlers, automotive steel and scrap industries, environmental groups, and a national group representing state government environmental agency officials, and the U.S. EPA. ELVS (End-of-life-Vehicle Solutions Corporation) manages the mercury switch removal program in the United States and Nordstrom's® was the first ELVS participant in South Dakota and one of the first in the five state regions.  We are proud to be doing our part as a member of the EPA's National Partnership for Environmental Priorities. Check out this link as One of Nordstrom's owners and also CAR committee chairman receives the plaque from the EPA for the associations' acceptance into the partnership.
As we process the vehicles for the EWE-PULLET we do many things to prepare them correctly.
Here is a list of what happens to all of the EWE PULLET vehicles.
Mercury containing convenience light switches are removed in accordance with the NVMSRP program.
Oil is drained and processed from the engine.
Gas tank is removed or punched to be drained. Many tanks are drained with a special punch device, and in this case, the tank is ruined.
Remove all antifreeze from cooling system.
Catalytic Converters are removed by cutting from the exhaust system.
Transmission fluid is drained and processed.
Remove all differential fluids from front and rear ends and transfer cases if 4wd.
Battery is removed and tested if saleable or if needing certified processing.
Refrigerant is evacuated from every vehicle.
Remove brake fluid.
Remove power steering fluid.
Push out floor drain plugs.
Remove all locking lug nuts, and loosen others for quick wheel removal.
Mark the roof and windshield of any major part know to be bad, or found to be bad parts of the car, during prep, to help customers out. We will always try and mark the car if we know something is bad. We do NOT test components.
Vehicles are carefully placed on stands in the facility to make part removal much easier. Because of this, No Jacks are allowed in Ewe Pullet.