Fall Harvest Days 2023
"16th Annual "
3 Options 
40-40-40  40$ Single Wheel barrow through mystery course 
  40 feet in 40 seconds, you get it for 40 bucks!
70$ Dual wheel hand cart through mystery course 
40 feet in 40 seconds, you get it for 70 bucks! 
100$ All NEW OUTLAW LANE- ANYTHING GOES! 
Strapping, Platforms, Tight, Dragging and Two People- allowed!
40 feet, in 40 seconds Ring the Bell straight course.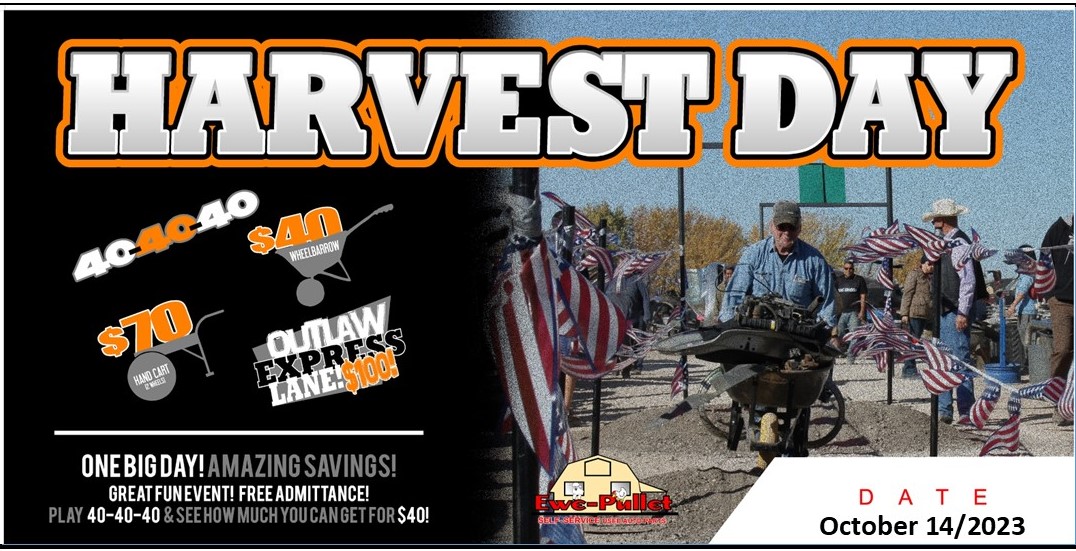 Our Annual Harvest Day is on!
Harvest Day 40-40-40 Pull-a-thon Event!
 Date is Saturday October 14th. 8:00 am to 5:00 pm
We want you to have a great and safe harvest!
Please watch our Facebook page and website for any updates,
Let your friends know!!!
Harvest Days 2021 & 2022 Video
Harvest Wheelbarrows Full
40/40/40
Fill each wheelbarrow full with as many parts as you can for $40.00!
You will have to push your wheelbarrow thru the obstacle course
40 feet in 40 seconds without losing your harvested parts!
$70.00 black hand carts also available.
$100.00 Express Lane
( No obstacle course )
Bring your own standard wheelbarrow or use ours if available!
Owner and Manager Showdown!
Art and Ricardo will each mark a special part that when found is worth $50.00 cash.
Ask About Our Scavenger Hunt!
There are many specially painted parts on cars, if you unbolt and bring up,
it is worth what you would normally pay for in Egg-Money Credit!
Free Admission
$1.00 coupon for for onsite concessions for everyone signed in. 
Harvest Day Terms
No core charges
All sales final
No refunds or exchanges on parts that are part of  a wheelbarrow full
No responsible for accidents
Childrens under 16 are never allowed in the vehicle storage area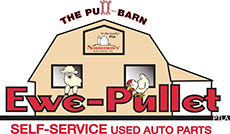 We Are Sure To Have Something You Need!
From Sioux Falls, I-90 East Exit#402, N 6 miles to 254th St. ,
2 miles East and 1 mile South.