Farm Smarts Self Service Interchange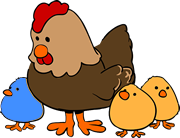 To help you with your harvest Ewe Pullet has installed two stations with electronic parts Interchange help. These Stations are equipped with Hollander® Interchange data which can be used to cross-reference many of the parts you may be looking for.  There is one "Farm Smarts" station on the "gate" side before making the choice to enter the lot and another on the "lot" side of the Pull Barn.
Ask the attendant to walk you through the system so you can quickly use it to save you time and find you more options when you harvest.
How does this help me?
Example:
You are looking for a door glass for you Buick Lesabre.  For some reason, all of the door glasses are gone from the Buick's like yours.  "Farm Smarts" will show you other models and years with the exact same part, but they might be a Pontiac, Oldsmobile or maybe even a Cadillac!
I hope this little example will help show you the value in learning how to navigate "Farm Smarts" Interchange computers.