Fall Harvest Days 2020
"All New Option this year"
3 Options this year.
40-40-40  40$ Single Wheel barrow through mystery course 
  40 feet in 40 seconds, you get it for 40 bucks!
70$ Dual wheel hand cart through mystery course 
40 feet in 40 seconds, you get it for 70 bucks! 
100$ All NEW OUTLAW LANE- ANYTHING GOES! 
Strapping, Platforms, Tight, Dragging and Two People- allowed!
40 feet, in 40 seconds Ring the Bell straight course.
Our Annual Harvest Day is on!
Harvest Day 40-40-40 Pull-a-thon Event!
 Date is Saturday October 10th. 8:00 am to 5:00 pm
We want you to have a great and safe harvest!
Covid Awareness for Harvest Day's 2020
If you or your loved one are at higher risk, we would encourage you, as you should anywhere you go, to take necessary precautions if making the decision to come. Face coverings when unable to social distance, are encouraged, but not required.  Temperature checks via digital forehead thermometer will be administered at during check in.  If you are not feeling well, please stay home, if temp is above 99.9 , you will not be allowed in the event.
Please watch our Facebook page and website for any updates,
or changes based on inclement weather or changes in the local Covid situation.
Let your friends know!!!
Harvest Days 2020 Video
Harvest Wheelbarrows Full
40/40/40
Fill each wheelbarrow full with as many parts as you can for $40.00!
You will have to push your wheelbarrow thru the obstacle course
40 feet in 40 seconds without losing your harvested parts!
$70.00 black hand carts also available.
$100.00 Express Lane
( No obstacle course )
Bring your own standard wheelbarrow or use ours if available!
Owner and Manager Showdown!
Art and Ricardo will each mark a special part that when found is worth $50.00 cash.
Ask About Our Scavenger Hunt!
There are many specially painted parts on cars, if you unbolt and bring up,
it is worth what you would normally pay for in Egg-Money Credit!
Free Admission
$1.00 coupon for for onsite concessions for everyone signed in. 
Harvest Day Terms
No core charges
All sales final
No refunds or exchanges on parts that are part of  a wheelbarrow full
No responsible for accidents
Childrens under 16 are never allowed in the vehicle storage area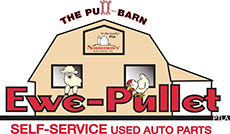 We Are Sure To Have Something You Need!
From Sioux Falls, I-90 East Exit#402, N 6 miles to 254th St. ,
2 miles East and 1 mile South.